Whistleblowing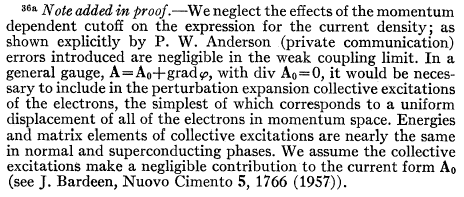 Note that the Gauge Invariance is not negotiable! Something is seriously wrong!
A possible resolution:
Yong-Jihn Kim
,
More details
.
In 2003, Ginzburg and Abrikosov shared the Nobel Prize. However, Gor'kov was not included, even though he was supposed to have provided the crucial microscopic justification of the Ginzburg-Landau theory. At the time Prof. Brinkman at Princeton complained about this decision [Phys. Today, December 2003]: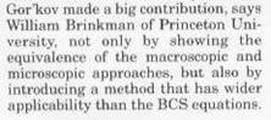 Why?
1. Gor'kov's microscopic justification of the GL theory is shown to be invalid.
(So Gor'kov's formalism is not a proper generalization of the BCS theory.)
Yong-Jihn Kim,
Mod. Phys. Lett.B 10, 555 (1996)
.
Y-J Kim and A W Overhauser,
Phys. Rev. B 47, 8025 (1993)
.
Comment by Abrikosov and Gor'kov,
Phys. Rev. B 49, 12337 (1994).
Reply by Kim and Overhauser,
Phys. Rev. B 49, 12339 (1994).
2. Abrikosov's vortex solution is not even a solution of the Gor'kov's formalism.
Yong-Jihn Kim,
Absence of the vortex solution in Gor'kov's formalism
,
cond-mat/9912464
.
More details
.
1. From K. K. Likharev,
Superconducting Weak links
,
Rev. Mod. Phys. 51, 101 (1979)

in the field of ac (Josephson) effects there are more questions than answers.

2. From M. Tinkam, Introduction to Superconductivity (McGraw-Hill, 1975), p. 195


Experiments show the negative sign, whereas the theory yields the positive sign!
3.
Rediscovery of the Threshold resistance
in SIS Josephson junctions
=> Only the small gap of MgB2 SIS junctions shows the supercurrent, while the
big gap doesn't.
=> High Tc cuprates SIS junctions do not show the Josephson effect.
=> The observed DC supercurrent of low Tc superconductors, such as Nb, Pb, and Sn, falls of much faster than 1/Rn for tunneling resistance Rn above a few ohms.